Triada Advisors Market Update Call
Description
Please join us on the next Triada Market Update Call on Tuesday, June 2nd at 12:12pm.  We anticipate the call to last approximately 45 minutes.  We will give a brief update on what has transpired in the market over the past week then hold a Q&A session with Columbia, IL Chief of Police and EMS Director, Jerry Paul.   
THIS WEEK'S FEATURED  SPEAKER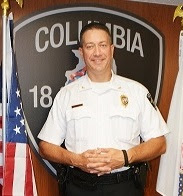 We're pleased to have Chief of Police and EMS Director, Jerry Paul join our call to offer insight and answer any questions.  
As a reminder, this does not take the place of your personal account reviews and individual goals, but we encourage you to email or call us with any questions you would like us to address on the call or individually. 
Dial-in instructions as follows:
Triada Market Update Call

Tue, June 2, 2020 12:12 PM - 12:57 PM (CDT)

Dial in using your phone.
United States: +1 (646) 749-3122
Access Code: 878-792-453
If you have any questions please call our office at 618-281-3444. 
Your Triada Advisory Team -
Aaron Thompson & Cal Neeman 
Date and Time
Tue, Jun 02, 2020
12:00p - 12:45p CST
Location
Conference Call
Dial in: +1 (646) 749-3122
Note
Access Code: 878-792-453
View on Map